Silver Mylar 2 Mil Comic Book Bags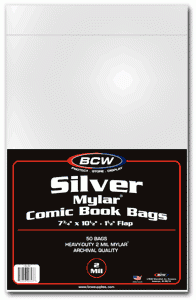 Volume Discounts
Pack(s)
Pack Price
1
$24.99
10
$16.99
Volume Discounts 10 or More
BCW Silver Mylar 2 Mil Comic Book Bags are made of Archival Polyester (Mylar) an inert material of the highest clarity. Mylar will not discolor, damage, or adhere to items placed inside it. It is a sturdy film that beautifully displays, timelessly protects and gives extra support to fragile documents.
- Made of Archival Polyester (Mylar )
- 1 1/2 inch flap for closure
- Protect comics while handling
- View more
Comic Accessories information
- Size: 7 1/4 x 10 1/2
- 50 Bag(s) per Pack
We Also Recommend These Fine Comic Book Boxes...