Vault Storage Card Box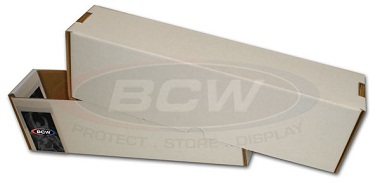 Volume Discounts
Each(s)
Each Price
25
$2.17
50
$2.07
Volume Discounts 50 or More
BCW Vault Graded Card Box is the highest quality, most competitively priced cardboard storage box on the market today. They are constructed of white corrugated paper and have a 200 lb. test strength. Protect your collectible cards in this box.
- Holds deluxe (semi- rigid) card holders
- Brilliant white - High quality - Stackable
- 200 lb. test strength
- View more
Cardboard Box Information
- Exterior: L (17-3/4) W (4) H (6-1/4)
- Interior: L (17-3/4) W (4) H (6-1/4)
- 1 Box(s) per Each
We Also Recommend These Fine Magazine Toploads...