3 x 4 Thick Card 197 pt Topload Holder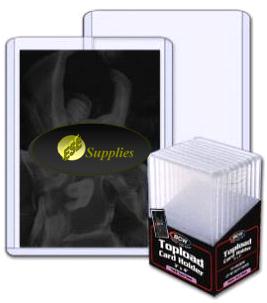 Volume Discounts
Pack(s)
Pack Price
1
$4.99
10
$4.29
Volume Discounts 10 or More
The BCW Thick Trading Card Holder are made of Crystal clear plastic and designed to accommodate up to 197 point Jersey cards. Use this holder with baseball cards, football cards, hockey cards, or other trading cards.
- Holds jersey cards up to 197pt thick
- Crystal clear
- Made of high
impact rigid PVC
- Exterior: 3 x 4 x 1/4
- Interior: 2 3/4 x 3 7/8 x 3/16
- 10 Holder(s) per Pack
We Also Recommend These Fine Trading Card Sleeves...