Resealable Thick Silver Comic Book Bag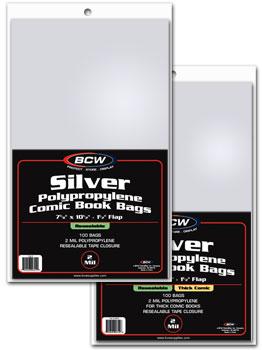 Volume Discounts
Pack(s)
Pack Price
1
$11.99
10
$6.99
Volume Discounts 10 or More
BCW Resealable Thick Silver Age Comic Bags are an acid free, archival quality product made of crystal clear polypropylene. These bags have a reusable adhesive tape strip on the body of the bag so the collector can fold the top flap over and lock in the comic.
- 2 mil material thickness
- 1 1/2 inch flap for closure
- Crystal clear
- View more
Comic Accessories information
- Size: 7 1/4 x 10 1/2
- 100 Bag(s) per Pack
We Also Recommend These Fine Comic Book Boxes...