Long Comic Book House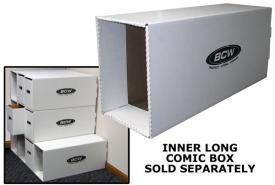 Volume Discounts
Each(s)
Each Price
5
$7.99
10
$4.99
Volume Discounts 10 or More
The BCW Long House consists of two parts: the drawer (any regular long box) and the shell, one outer sleeve and reinforcement inner sleeve which makes the shell even more sturdy. The pieces are formed from white 200 lb- test cardboard.
- Slides open like a file drawer
- Double thickness
- Brilliant white - High quality
-12 packs are packaged 240 per case
- View more
Cardboard Box Information
- Exterior: Length (30) Width (9) Height (12-3/4
- 1 Box(s) per Each
We Also Recommend These Fine Magazine Toploads...