Golden Comic Book Extenders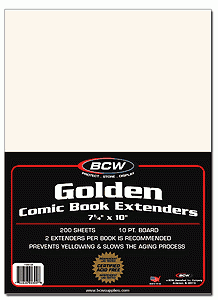 Volume Discounts
Pack(s)
Pack Price
1
$19.99
5
$18.99
Volume Discounts 5 or More
The BCW Comic Book Extenders will help prevent yellowing, retards the aging process, and absorbs and neutralizes the contaminants in comic book pages. These 10 mil sheets go inside the book, next to the paper and ink one fourth of the way in from the front and back covers, only two sheets per book are necessary.
- Helps prevent yellowing
- Slows the Aging Process
- Absorbs and Neutralizes Contaminants
- View more
Comic Accessories information
- Size: 7 1/4 x 10 1/2
- 200 Board(s) per Pack
We Also Recommend These Fine Magazine Toploads...