Golden Thick Comic Book Bags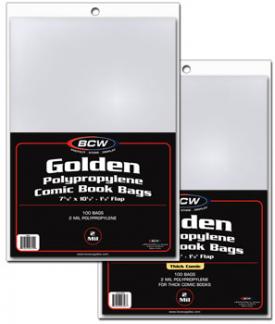 Volume Discounts
Pack(s)
Pack Price
1
$8.99
10
$6.99
Volume Discounts 10 or More
The BCW Golden Thick Comic Bags are an acid free, archival quality product made of crystal clear polypropylene. Use this item to protect and store your collectible golden comics.
- 2 mil material thickness
- 1 1/2 inch flap for closure
- Crystal clear - Acid free, archival quality
- View more
Comic Accessories information
- Size: 8 x 10 1/2
- 100 Sleeve(s) per Pack
We Also Recommend These Fine Comic Book Boxes...