8 x 11 x 5MM Golden Age Comic Topload Holder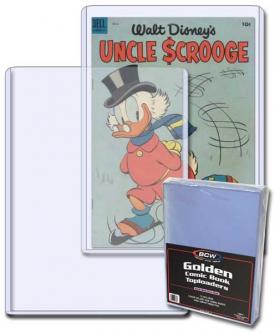 Volume Discounts
Pack(s)
Pack Price
1
$23.99
5
$21.99
Volume Discounts 5 or More
The BCW Toploads contain no plasticizers or stearates. Our high impact grade PVC does not migrate and will not harm your cards, photos, magazines or prints, while offering maximum protection and visual appeal. Use this holder for Golden Age Comic Books.
- Holds Golden Age Comic Books
- Easy Top loading Holder
- Crystal clear
- Made of high
impact rigid PVC
- Exterior: 8 1/8 x 11 1/4
- Interior: 7 5/8 x 11
- 10 Holder(s) per Pack
We Also Recommend These Fine Trading Card Sleeves...